Who Couldn't Benefit from Home Organization?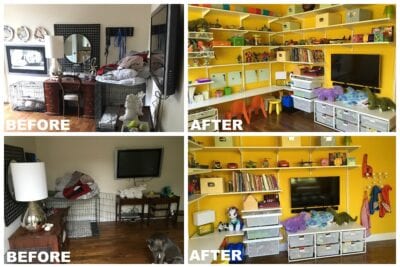 Managing a home in today's busy world can be a challenge.  There always seems to be more coming in than going out.  Shoes, toys, clothes and other personal items collect quickly and if you don't have a good system clutter ensues.  Your home should be a place that welcomes you and allows you to relax and spend quality time with your family.  If you lack good organization systems for the items in your home and life, the relaxing home you wish for can easily become a place of stress and overwhelm.
More Time For You offers solutions to get rid of the clutter once and for all from every room in your home; whether it's your entryway, kids' rooms, kitchen/pantry, closets, home office, garage, or storage space. It's not just about cleaning up, it's about creating systems that allow you to find what you need when you need it. The steps below are an outline of how a home organization project goes:
Phone Consultation
I spend 20-30 minutes learning about your cluttered spaces.
Is it your garage, your kids' rooms, your entryway? Maybe you're not sure what the biggest problem is. I ask a lot of questions about you, your family members, your organization style, and your budget. I can then help you get some clarity on where to start and how More Time For You can add value to the process.
Schedule a Home Audit or 3-hour session

Choose the right option for you.

Home Audit
If you're unsure if working with a professional organizer is right for you, then this is the best place to start. During the home audit you and I do a walk through of your entire home. I look at what areas are functioning well and what spaces could use an organization makeover. You then receive a written action plan of recommendations to implement yourself (for those of you who are the DIY type) or you can schedule the necessary organizing sessions to get the job done. No more procrastinating as to where to start. You get a plan and a path.